Wooden Bungalows Camping Mascún Rodellar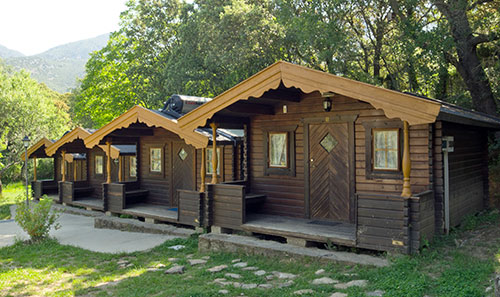 Our wooden bungalows are well sheltered by ancient oak trees and integrate naturally into the surrounding landscape.
According to the type of bungalow, they can accommodate up to 6 people in a shared bedroom, which can be divided by a fold-out room divider.
All the bungalows (the cabins only have one room) have a bathroom, hot water, electric heaters, kitchen equipped with two electric plates, fridge, kitchen hood and basic kitchen essentials such as dishes, saucepans and a coffee maker.
Altogether there are 12 bungalows and cabins, located in a quiet area of the campsite. They all have a little porch and a car park for up to 2 vehicles*.
*(Note that only one vehicle is included in the price, the second vehicle will be charged according to our Rates)
Cabin Nº(1,2,3)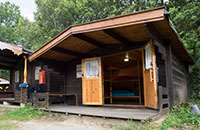 Bank bed 3X2

Electric heater

Car park 2
Bungalow Nº(4,10)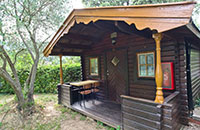 Bank bed 2X2
Shower with hot water

Private toilet

Kitchen with two electric plates

Electric heater

Car park 2
Bungalow Nº(5)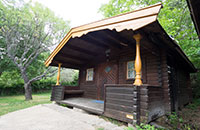 Double bed
Shower with hot water

Private toilet

Kitchen with two electric plates

Electric heater

Car park 2
Bungalow Nº(6,7,8)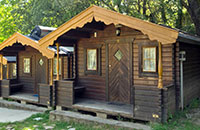 Double bed + Bank bed 1X2
Shower with hot water

Private toilet

Kitchen with two electric plates

Electric heater

Car park 2
Bungalow Nº(11)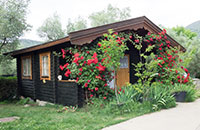 Bank bed 2X2 + 2 Nido
Shower with hot water

Private toilet

Kitchen with two electric plates

Electric heater

Car park 2